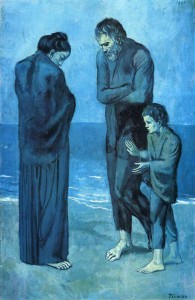 From the hype surrounding the film Fifty Shades of Grey, based on books by a female author, E. L. James, those unacquainted with its subject matter might assume that it was a romantic if slightly saucy 'chick flick'; but the whole phenomenon highlights how the eugenics idea has risen like a phoenix from the ashes of the Holocaust and is now even more influential because it does not precisely replicate the eugenics that was inseparable from the Holocaust;[1] indeed, Belgian euthanasia campaigner and practitioner Dr Wim Distelmans organised a tour of Auschwitz, calling the camp "'the pre-eminent symbol of a degrading end of life'"[2] – presumably to demonstrate that 'that sort of thing' is behind us, whereas the modern 'assisted dying' movement can help those suffering 'degrading' lives by ending them.
The crucial factor is 'consent', and Fifty Shades justifies its portrayal of a vulnerable young student being drawn unwillingly into sadomasochism, because she 'consents' to vile treatment at the hands of the 'hero'.[3] The Marquis de Sade would have regarded it as tame, but his writings were not designed to appeal to the 'chicklit' market. He saw women as disgusting inferior life forms, and never dignified his literary victims with having the power to consent to doing 'what came naturally'; enjoyment of the genre depends on the fact that they do not.[4]
Fifty Shades is certainly not erotic, unless in the sense of flogging the dead horse of the modern libido, now as jaded as the appetites of the cruellest Roman emperor – or the bloodthirsty voyeurs of the Colosseum. The books have been compared to those of Barbara Cartland, and are certainly as popular,[5] but although she too portrayed women being 'swept off their feet' by tall dark strangers, she took her characters 'to the bedroom door and no further', an approach long since jettisoned along with romance and commitment.
Rather than becoming more open, however, our horizons have narrowed until they consist only of private predilections, pushed as far as individual egos demand and the law will allow. Romance requires difference and strangeness, but within safely circumscribed boundaries – not the boundary of 'consent', since immaturity, poverty and emotional fragility – especially when childhood abuse has occurred – makes ready victims of vulnerable individuals.
Human beings seem to have reached that point on the slippery slope of declining moral standards in which sex has come so far adrift from its primary purpose – to make new human beings – that as H. G. Wells remarked, the "spreading knowledge of birth-control" means that "love" is "taken more lightly than…in the past", as "refreshment and invigoration".[6]
In contrast, G. K. Chesterton's hero in Manalive, accused of burglary, desertion, polygamy and attempted murder, is merely acting out his creator's antidote for familiarity breeding contempt by repeatedly eloping with his own wife and stealing his own possessions. He thus finds true appreciation of the gift of another human being and also prompts a professor who continually questions the value of life to hastily recant when confronted with a loaded pistol.[7]
Arguably, we have liberated Woman from fictional heroes who fight each other for their favours and replaced them with men who violently extort those favours with a real stick while holding the carrot of commitment just out of reach. We have achieved Wells's 'feminist' dream of free women acting as prostitutes – in a double sense, since they do not charge for their 'services'.[8]
The socialist Wells might baulk at the myth of the 'sexually proactive woman' being used to sell unsavoury ideas and a great deal of perfume; but the painful truth is that for women there is no 'right to sex' – only the responsibility for dealing with its inconvenient outcomes; regardless of reality, this bogus idea is underpinning the sinister quid pro quo, a man's 'right to sex'. Readily available pornography is fuelling what has always been the rapist's defence – women are 'dying for it'.[9]
Unfortunately, some women are literally dying for the sake of the myth, which is underpinned by education authorities promoting sex as a recreational activity, aided and abetted by feminists in universities who claim that "men who open doors for women are as guilty of sexism as those who are rude to them",[10] while yet others provide pole-dancing classes and careers information on prostitution, sadomasochism and pornography.[11]
Feminists, it might be supposed, would see the promotion of sadomasochism as a misogynist plot to literally silence and control women; but as one diversity campaigner revealed, in the libertarian 1980s heated protests against sadomasochism and pornography by heterosexual and lesbian feminists were defeated; critics were effectively 'silenced and controlled' by the 'gay liberation' campaign.[12]
The Sexual Revolution depended on the willing co-operation of women, but too many 'independent women' gave their consent to an individual man who then rejected them in pregnancy, when they were at their most vulnerable – thus 1970s feminism should be seen as a reaction to the libertarian male's 'summer of love' that in due course found itself gagged and bound by female representatives of the fertility control movement.[13]
The emphasis of schools on 'condoms and consent' and 'having sex when you're ready for it' at least sounds as if the aim is to safeguard girls from unwanted sexual attentions – but such programmes are driven by the 'sex positive' approach that is trying to remove the 'stigma' from provocative behaviour, 'sexting' and abortion;[14] far from empowering girls to say 'no', they are grooming them to say 'yes' to whatever is suggested to them.
As to the laws on the age of consent, since the 1980s Governments and health services have effectively undermined them; despite countless reports of little girls being turned into sex slaves to satisfy the perverted desires of gangs of men, the latest initiative is to give ten-year-old girls long-term contraception, and to dole out condoms and lubricants to boys of the same age.[15]
'Sex positive' sex education acts on the philosophy of discredited sexologist Alfred Kinsey – that children have an active sex-drive, and are naturally bisexual – and despite the emphasis on 'consent', the subliminal message is that children 'cannot help themselves'. As for teachers and other professionals in positions of responsibility who are concerned about children involved in sexual activity, the Government now approves the notorious Brook 'traffic light' advice.
According to this advice, 'green' behaviours "reflect safe and healthy sexual development" among 13-15-year-olds, but it includes "consenting oral and/or penetrative sex with others of the same or opposite gender who are of similar age and developmental ability". Brook says that such behaviours "provide opportunities to give positive feedback" and denies that their approach condones sexual behaviour.[16]
Progressives would see the advice as useful for distinguishing between wanted and unwanted sexual attentions; but paedophiles, like rapists, will have the satisfaction of knowing that their child victims have been 'groomed' by those in authority to provide easy targets for their attentions; even amid the breast-beating over historical paedophile scandals like the now-notorious Jimmy Savile, we continue to practice not prevention, but covert facilitation.[17]
Such cases demonstrated that children trust their parents, and trust those to whom their parents entrust them, whether it is a step-parent, boyfriend, relative, friend of the family, clergyman, teacher, doctor, policeman, social worker, or nursery worker with less than benign intentions.[18] But the UK's Children's Commissioners have conveniently turned public attention from such scandals and official complicity in them by focussing on the family as the locus for child abuse, complaining to the UN under its Convention on the Rights of the Child that smacking should be banned; England's Commissioner, while praising the Government for tackling organised child sexual exploitation, used the issue to warn of dangers closer to home, demanding "determined action to prevent child sexual abuse linked to the family."[19]
She should have called for an investigation into the promotion of child sexual abuse in schools, where children can see officially sanctioned cartoons of adults chasing each other round the bedroom;[20] where children are taught that having children is best avoided – in fact, showing them a graphic film of a live birth guaranteed to mentally scar them and make them anxious to avoid the process altogether,[21] while providing information on the necessary technical back-up to the inevitable failure of birth control – abortion.
She might usefully look into why children are taught to avoid the dangers of sexual intercourse by substituting pornography and masturbation, or same-sex activity;[22] or taught that they might belong to the opposite gender;[23] or taught strange names for intimate body parts that their own parents do not use but paedophiles most certainly will.[24] In fact, one convicted paedophile has been involved in constructing schools' sex education for a large province in Canada.[25]
Back in the 1970s, one pioneer of 'sex positive' education, Martin Cole, argued that "the purpose of sex education should be to encourage teenagers to accept their own sexuality and take precautions against unwanted pregnancy"; as he frankly admitted: "I think teenagers should be promiscuous…I think being promiscuous can, in many cases, be a vitally important part of growing up."[26] If the promotion of promiscuity sounds far distant from the aims of the historical eugenics/population control movement, it should be remembered that the Neo-Malthusians used pornography to promote birth control, hoping to replace procreational sex with recreational sex.[27]
Eugenicists used birth control to promote the idea of the 'wanted child' – the need for more children from the 'fit' and fewer from the 'unfit'. Cole – dubbed 'sex king Cole' by the popular press – was a plant geneticist and member of the Eugenics Society; active in the abortion campaign, he opened the first abortion clinic in Birmingham after legalisation, and  made 'sex education' films featuring actual masturbation; he also provided 'sex therapists' for his 'clients'.[28]
Now established in official advisory positions to governments, the 'sexperts' are no longer so refreshingly blunt, but their latest claim – that explicit 'condoms and consent' sex education has lowered teenage pregnancy rates[29] – is more likely proof of the opposite – that the stricter morals, family discipline and more cohesive communities of ethnic minorities, whose young people now form a larger proportion of the UK population thanks to declining indigenous birth rates, are responsible for this development;[30] but sex education lessons telling children about masturbation and that "porn can be great" could also be a factor, in promoting non-reproductive sexual acts.[31]
'Sex education' is merely finishing the job started by Friedrich Engels, who deconstructed romance over a century ago and was enthusiastically, if figuratively embraced by Western feminists.[32] The eugenically inclined, elitist Bloomsbury Group abolished objective right and wrong during the 1920s and 30s,[33] leaving Western culture with Karl Marx's materialistic worldview. But in the absence of objective moral standards we are forced to embrace the sole remaining 'value' that we value – choice. And what makes Fifty Shades acceptable to the Bloomsberries' philosophical heirs is consent. They may not approve of sexual violence against women, but 'consent' makes it 'appropriate' rather than 'inappropriate'.
History shows that public and private moral standards do not decline gently but in ever-decreasing circles; pornography's diminishing returns lead to more, not less sexual violence.[34] As John Bagot Glubb noted in The Fate of Empires and Search for Survival, human values are put under pressure as human beings are subjected to constant change;[35] 'consensual' sadomasochism must lead inevitably to the complete legalisation of prostitution.
Critics accuse the Fifty Shades film of glamorising violence against women,[36] or legitimising it,[37] but 'real' sadomasochists denounced the film as 'irresponsible'; one 'bondage' instructress insisted that it "comes down to consent… When it is done in a respectful manner, when a person willingly surrenders to another, it becomes another language of love", using the analogy that "people in marriages and long-term relationships often do things their partners want them to do but which they themselves find unpleasant—"like cleaning the rain gutters" – they "consent, nonetheless, out of love."[38] We may yet see advertisements for such dubious 'entertainments' adorned with little warning notes like those admonishing us to 'gamble responsibly' and 'drink responsibly' – 'hurt each other respectfully'. Most dangerously, the 'Fifty Shades' fantasy legitimised 'sexual violence with permission' regardless of the real-life power dynamics of relationships.
'Condoms and Consent' for Children
Power plays a part in all human relationships, hence the role of much-derided marriage in redressing the power imbalance between the sexes; but the idea of 'saving sex for marriage' is ignored in modern 'condoms and consent' sex education, with the blessing of governing elites. The age of consent for girls was raised to 16 in the Victorian era;[39] amending the law on sexual offences in 2003, the Home Office said that "genuinely mutually agreed, non-exploitative sexual activity between teenagers does take place and in many instances no harm comes from it", and that they would "ensure that these cases, which are not in the public interest, are not prosecuted – by amending guidance to the police and Crown Prosecution Service."[40]
This further underlines the message of 'sex positive' sex education – that the chief 'harm' for minors is not 'having sex' but having babies. Despite child sexual exploitation scarcely being out of the news, we have effectively junked the historical recognition that by nature of their immaturity children cannot give consent, and successive governments' covert disregard of their own laws has led to "confusion" among those responsible for protecting children from systematic, organised grooming and sexual exploitation.[41]
And although children are being entrusted, against the law and against their own interests, with the power to consent to sexual relations, when it comes to their rights under the Children's Act to be consulted about decisions about their welfare when taken into 'care',[42] thousands of children removed from their homes for trivial reasons do not get the chance to exercise this right.[43]
Neither have they the right to protect themselves from 'condoms and consent' sex education, but are treated as mini adults with an active 'sex drive', even although the Kinsey approach contains its own refutation since they should not need to be taught what they are already supposed to know. The same bogus philosophy underpins the promotion of 'sexual diversity' education as a way of protecting 'gay children'; but it can also promote population control, either by restricting births,[44] or raising the suicide rate.[45] While sounding like a positive move to protect children's choices, it is based on Kinsey's theory of 'natural' bisexuality in children; however, far from same-sex friendships among children providing evidence of bisexual or homosexual attraction, it is more indicative of children being naturally attracted to those with whom they have most in common.[46]
Undaunted, its progressive supporters claim that children's 'natural' knowledge and inclinations have been repressed by uptight parents, who, they maintain, were also repressed by their parents, and so on ad infinitum – for all anyone knows, back to the uptight bacteria in the primeval swamp.[47] Margaret Mead's Samoan studies of primitive peoples purported to show that child sexuality was natural to our 'unrepressed' distant ancestors, but turned out to be as scientifically valid[48] as Kinsey's, and it is no coincidence that Kinsey's much-lauded 'scientific data' – in reality, the torture of children, described in voyeuristic detail – came largely from paedophiles, who have duly acknowledged their debt to the great sexual campaigner in normalising their perversions.[49]
But like Margaret Sanger, Marie Stopes, and other early abortion and birth control campaigners, the open secret of Kinsey's and Mead's falsifications has dented their reputations not a whit – at least among PWM – People Who Matter. The regular re-surfacing of reports that civil liberties campaigners during the 1970s worked with paedophiles to lower the age of consent to 14 – or to abolish it completely – and to legalise incest, has not prevented them from achieving high office and influencing family policy in mainstream political parties.[50] It should not be so surprising that the concerns of paedophile and progressive should converge, however; although the former wish to sexually control children and the latter wish to liberate them to express their sexuality freely, first they must be placed under the control of the State; as Chesterton remarked of Hitler: "'Give me your children or I will come and take them.'"[51]
Back in the 1970s, the shock troops of sexual liberation were met with the literally reactionary force of socially conservative opinion; they were forced to 'suit up' and try to appeal to the mainstream, and the result was a progressive political cartel that quietly put into practice their extreme anti-family views. In 2010 Tory leaders, anxious to exorcise their reputation as 'the nasty party', decided to discard social conservatism; rather than form a minority government in the hope of winning an overall majority at the next election, David Cameron entered into political coalition with the progressivist Liberal Democrats, hoping to pursue a right-wing economic agenda unmolested by the progressive media; arguably this has meant being nasty to his friends and nice to his enemies,[52] for while ignoring popular calls for a referendum on Europe they legalised same-sex marriage without mentioning it in their manifesto and even asked diversity campaigners what they would like them to do next, prompting one to propose that steps be taken to change attitudes.[53] At no time did they seek the consent of the electorate for this agenda.
When the 'Trojan Horse' scandal emerged, revealing that Islamist extremists had 'taken over' some mainstream schools, it was announced that in order to prevent extremists 'grooming children', schools would be inspected and rated – and perhaps closed down, despite excellent educational standards – if they refused to 'groom' children in the tenets of sexual diversity, dressed up as 'tolerance' – the Trojan Horse within the Trojan Horse.[54]
Predictably, greater 'openness' about sexuality, supposed to lead to a nirvana of contentment and harmony, has led to children perceiving 'gay' as having negative connotations[55] – cue anti-bullying programmes promoting the bullying of those perceived as sexual diversity dissenters, regardless of their shaky foundation.[56] Most importantly, the project sends the message that 'gay', 'bisexual' and 'transgender' children exist – all 'at risk' of being bullied by those with 'conservative' views, rather than those who would normalise minority sexual practices like sadomasochism on the grounds of 'consent'.[57]
The culture wars of earlier generations appear to have been won; any criticism of proselytising is now viewed as evidence of 'homophobia' by diversity campaigners being invited into schools to lecture children on the need for tolerance.[58] Most people have failed to challenge the underlying message that children are sexually autonomous beings; indeed, campaigns for 'transgender' children have received public sympathy; as with the abortion campaign, there have been warnings about children driven to suicide, with little concern for whether they can give valid consent to bogus 'gender theories' any more than they can validly consent to pre-pubertal chemical intervention and plastic surgery, for which the public is expected to pay – without their consent, naturally.[59]
The correlation of giving children the de facto right to engage in sexual relations and to choose their own sexual identity is to give them the right to make important decisions regarding real medical treatment. In Holland and Belgium sick children are allowed to 'choose' death.[60] Although, historically, population control advocates emphasised the widespread nature of infanticide,[61] and although one 1960s abortion campaigner, Madeleine Simms, based her campaign for the infanticide of disabled newborns on the 'right' of parents to choose to abort disabled foetuses, in reality parents are among the chief obstacles to killing children.[62]
Non-treatment (or medical neglect) has been redefined as euthanasia by prominent bioethicists Helga Kuhse and Peter Singer, who demanded: "[I]s there a morally significant difference between allowing a baby to die, and killing that baby?"[63] Significantly, those who solemnly avow that eugenics abortion does not imply a lack of respect for disabled people would never think of waiting for children to be born and grow to maturity in order to ask them whether they would like to be killed.[64]
The Holocaust and the Right to Choose
The Holocaust, the very antithesis of 'the right to choose', epitomised the evil of the strong forcing their will upon the weak. In response to this evil, the right to life from conception and the right to a family life (now notoriously exploited by criminals)[65] were enshrined in the Geneva Convention;[66] however, campaigners are now working through the UN to demand the abuses Hitler imposed on the 'unfit' – contraception and abortion, but also sterilisation – as human rights;[67] and with euthanasia for the disabled, heavily disguised as assisted suicide, being demanded as a human right, no doubt in due course Hitler will be awarded yet another posthumous victory.
The Holocaust acted as a watershed regarding enthusiasm for overt eugenics as far as the general public was concerned, but not its committed proponents, although by the 1950s some realised that owing to public distaste it was advisable to work through or support campaigns that furthered the eugenics philosophy.[68] Each campaign had its own apparently discrete area of concern – euthanasia, abortion, the Family Planning Association, the International Planned Parenthood Federation (founded by Blacker and Margaret Sanger).[69] The goal was to influence public policy, and by the 1960s, with the FPA's clinics subsidised by the state, 'family planners' entered the field of sex education. This meant exposing children to 'facts' – value-free information about sex but also abortion and contraception.
The approach was nothing new. Abortion pioneer and wealthy banker's wife Janet Chance, a fellow of the Eugenics Society, was described by co-campaigner Alice Jenkins as "a notably sensible pioneer of sex education and marriage counselling". Chance, who opened her own Sex Education Centre in Kensington in 1929, embraced sexual freedom for the 'fit' (including herself),[70] but called for compulsory birth control and abortion for the 'unfit'.[71]
The sexual revolutionaries of the 1960s, although politically radical, were not so different; despite their emphasis on rights, middle-class progressive campaigners failed to understand that the right to abortion does not empower the poor and weak – in fact, it has worsened their plight. Campaigners see fertility control for the poor as a 'ladder out of poverty', but would be affronted if anybody told them they could raise their living standards by killing their own children. This collective empathy failure allowed eugenicists to exploit the spirit of the age by repackaging as human rights every abuse advocated by the eugenics pioneers and practised by the Nazis – including pornography and homosexuality – as a weapon against the 'unfit' and the surplus population.[72]
Before the Holocaust, people were marked out as mentally or physically unfit; now, those suffering from depression, portrayed as a mental illness, are encouraged by high-profile campaigns to self-identify.[73] Pre-Holocaust, the Eugenics Society failed in its campaign to sterilise the 'mentally unfit' as the price of being 'let out of the asylum';[74] however, during the 1960s, civil libertarians campaigned for patients to be let out of the asylum,[75] and their autonomy is now respected, even if they 'choose' to live in squalid and dangerous conditions, or in one case 'choose' to be sterilised so they can exercise their 'right to sex' as a result of secretive hearings that break all the rules of civil liberties.[76] That judicial decision might be regarded as a compassionate move, to prevent children being born into less than ideal circumstances; but we now see un-consenting children being born into every unnatural permutation of the human family, with official approval – providing adults give their consent.[77]
Nazism in its day was condemned as an orgy of sadomasochism, but Fifty Shades turns viewers into voyeurs, and since 2003 voyeurism has not been a sexual offence providing consent is given; ditto orgies,[78] a long-term aim of sexual diversity campaigners.[79] In their day, Hitler and his henchmen were seen as sexual perverts,[80] but just a few years after the War ended, Kinsey's 'study' of childhood, based on the sexual torture of children, was received uncritically by the news media; moreover: "To this day, Kinsey is still the gold standard in sex research"; the Kinsey 'sex positive' philosophy has powered the march of progressivism through traditional views of childhood, family and marriage,[81] and like the bloated banking system, it is 'too big to fail', despite inconvenient details like Kinsey's warning to one notorious Nazi paedophile contributor to his 'study' to be careful not to get caught.[82]
The eugenics movement distanced itself from the embarrassment of Nazism on the issue of consent, but the psychiatrist C. P. Blacker appeared unembarrassed by the fact that the killing programme was dominated by doctors and psychiatrists,[83] concluding that "on a scale of turpitude, the euthanasia of the insane ranks lower than the vivisection of human beings. We may recall that among the insane and defective were included more Germans than non-Germans, and, if the account of mass starvation given by one doctor on what seems to be unsubstantial evidence is rejected, these people were mercifully killed. The idea of merciful killing is not unknown in this country; indeed, a society exists to promote it, on a voluntary basis, for people suffering from incurable and painful illness."[84]
Blacker never explained how mentally ill people could voluntarily consent to euthanasia, and being starved, poisoned, shot and blown up was "far from…being a 'gentle death'"; in the gassing cellar of the Hadamar asylum, closely watched from above, victims "experienced extreme terror".[85] With unintentional irony, Blacker blamed these atrocities on "psychopaths, criminals and criminal lunatics",[86] implying that while the victims could have chosen to be killed, the killers could not help themselves.
Invited by post-War Labour Prime Minister Clement Attlee to chair a committee of investigation into the war crimes of German doctors, Blacker was informed that a "mass of material had been collected" (including a report that he found "particularly helpful" entitled 'Sterilization and Execution of Patients suffering from Nervous and Mental Disease'), which needed to be studied by "authorities" in the relevant fields; as an 'expert' on eugenics he was asked to give his "opinion as to the scientific value of this evidence, if any" of this material.[87] Blacker recalled that he had "[r]arely…performed a more distasteful task"; indeed, it had "partly spoiled" his summer holiday; but his distaste arose mainly from his view that the Nazis had given eugenics a bad name.[88]
With its roots in a perverted Darwinism, eugenics regarded human beings simply as animals, although some were more intelligent and thus fitted to exercise autonomy, as well as authority over others.[89] More benignly, the animal welfare movement is built on the view that animals need protection precisely because they cannot choose; but if some human animals must decide on the best interests of other human animals, this may include 'putting down' the old, feeble and costly, as one vet insouciantly argued of his own mother.[90]
The Kinsey proposition that human beings are simply animals who cannot control their sexual impulses[91] underpins our view of sexual liberty; but the progressive belief that people 'cannot help themselves' sexually plays into the hands of the eugenics lobby, because if people cannot control themselves, they will have to be controlled; as Chesterton remarked, when we cast out "contemptuously" the "sense of a conscience working from within", nothing is left "except compulsion…from without."[92]
A true Darwinist would not expect immature animals, human or otherwise, to 'have sex', and in implying that such 'lesser evolved organisms' cannot help 'randomly mating', sex 'educators' are purveyors not of Darwinism but eugenics. When the Coalition Government announced its intention to teach children "as young as 11…lessons about rape, in which they will be taught that dressing provocatively does not imply consent to sex",[93] it appeared to be safeguarding children, but instead was more likely to leave impressionable 11-year-olds with the impression that it is OK to dress provocatively and, contrary to the law, that they may give consent to sex.
While the mantra 'only have sex when you feel ready' sounds vaguely empowering, the under-age victims of countless sexual exploitation rings believed they were 'ready for it' and were duly equipped with fertility control on the basis that merely to request it was to show sufficient maturity to 'have sex', regardless of the law. These victims only realised that they had not been 'ready for it' in maturity, when they also realised that their immaturity had been exploited by paedophiles for their own ends, facilitated by the official approach of 'respecting the autonomy' of children rather than protecting it.[94]
It was for this very reason that the Victorian campaigner Josephine Butler worked to raise the age of consent, and sexual libertarians and paedophiles have tried ever since to abolish it; successive governments of Left and Right have obliged, most notably for children in state 'care', who are treated like so much rubbish – the embarrassing human evidence of the failed experiment that must be swept out of sight lest those responsible for child welfare be called to account; more importantly, lest it jeopardise the new 'sex positive' approach.
Sex is indeed good, but like fire is best kept in the fireplace where it cannot burn down the house. Never in all human history has there been a need to curb an excess of virtue; rather the concern has been to prevent the spread of vice. There has not been a dearth of killing, rather the reverse; but as far as the eugenicist population controller is concerned, not only are there too many people, but the 'wrong' human beings have been killed, thus they oppose capital punishment for convicted murderers but approve of it for innocent unborn babies and the weak, disabled and elderly.
And what is promiscuity but the slow suicide of those who, unvalued by society, cease to value themselves? Eugenicists were not slow to note that those living very dissolute lifestyles were less likely to reproduce; Sir Francis Galton's disciple Karl Pearson took a close interest in prostitution.[95] Governments have, up until now, sought to curb promiscuity because of its tendency to undermine civil society, but with Judaeo-Christian wisdom increasingly viewed as outdated, one commentator noted: "When Judaism demanded that all sexual activity be channelled into marriage, it changed the world. It is not overstated to say that the Torah's prohibition of non-marital sex made the creation of Western civilization possible. Societies that did not place boundaries around sexuality were stymied in their development. The subsequent dominance of the Western world can largely be attributed to the sexual revolution initiated by Judaism, and later carried forward by Christianity".[96] Now, however, the Sexual Revolution is returning us to the 'freedoms' of paganism, under which a perverted Darwinism is ushering in a more brutal age – "the survival of the fiercest."[97]
'Sex positive' advocates urge critics to stop criticising, believing that 'consent' outweighs every negative outcome; 'progressives', imbued with a 'liberal' view of sex "as, at best, contractually bargained-out autonomy",[98] conjure up a vision of a world in which people must indicate their wishes in advance, and confirm them in writing in the presence of witnesses, if they wish to avoid any unpleasantness from sexual encounters. At the same time they disdain marriage, despite the fact that when two people marry, they consent to entrust their sexuality to each other in a permanent, exclusive relationship, confirming their pledge in writing in the presence of witnesses.
Progressives see one of the 'unpleasant outcomes' of sexual encounters as unplanned pregnancy, and therefore regard the right to abortion as intrinsic to sexual 'freedom'; but abortion itself is an unpleasant outcome of sexual freedom, and the eugenics movement realised from the very beginning that its 'solution' to racial 'unfitness', supposedly a panacea for women's problems, was not such a 'voluntary' measure as they claimed. Campaigner Stella Browne remarked at the first English abortion conference that "unfortunately many women in the pregnant state are unstable in wishes and will, and there have been cases where humane and kindly doctors have met the woman's frantic wish and have operated, and then had the experience of being told 'Oh why didn't you leave me alone?'" Browne suggested a waiting period of two or three weeks, but despite believing that "many women in the early stages of pregnancy are unreliable to a very high degree", she believed a woman's "instability" should "never be made an excuse for definite refusal to operate." Fellow campaigner Mrs. Selwyn Clarke said there "may be a number of women, probably mainly middle class, who do have fancies and emotional reactions", but that "the working class woman" with several children should have the right to terminate her pregnancy because of her "lack of vitality and energy", insisting: "[A]s serious minded people…we should stick to our main purpose, and if here and there a woman changes her mind, do let us realise that it is not very important."[99]
Unless women know what they are choosing, the 'right to choose' is illusory; but by the time they really know, as abortion advocates were well aware, it is too late; and yet campaigner Alice Jenkins, while stressing 'voluntary' parenthood, was inspired by fellow eugenicist Judge McCardie, who advocated compulsory abortion for the 'unfit'.[100] Fellow campaigner Janet Chance looked forward to society "gradually" making "contraception (and, when medically advised, abortion)…possibly compulsory for the degenerate, when we know who they are." (Added emphasis)[101]
Despite his own emphasis on 'voluntary', privately C. P. Blacker explained to Karl Pearson that the aim of a Eugenics Society-sponsored sterilisation Bill was "to try to create a eugenic conscience in the matter of reproduction of disgenic (sic) stocks, and while keeping the means voluntary in the legal sense, to bring strong pressure of public opinion to bear in these cases…. Defectives being, for the most part, readily suggestible and open to the influence of the people around them, should in most cases be easily persuaded to undergo, and to desire to undergo, voluntary sterilisation… When we talk of the measure being voluntary, what we especially mean is that it should not be performed upon an unwilling subject."[102]
In 1933, Blacker sounded out the British Union of Fascists on its sterilisation policy, reporting that they would "support us vigorously, and that over the sterilisation question they would go beyond us and demand that it be made compulsory as in Germany"; since the BUF openly advocated compulsory sterilisation, this should have come as no surprise.[103]
Progressives would insist that 'family planning good; population control bad', but as American eugenicist population controller Garrett Hardin, advisor to the English abortion campaign, pointed out: "Freedom and population can never be bedmates"; if you allow people true choice they might not choose what you want them to choose.[104] To Hardin, abortion was essential to women's rights: "Let us recall the underlying justification for all birth control practices: to free women from a now needless form of slavery, to make a woman the master of her own body…"[105]
With unplanned pregnancies now defined as 'unwanted', abortion advocates strenuously resist calls for the provision of objective scientific facts about abortion and its effects on women, and on foetal development,[106] meaning that, together with the official imprimatur of 'health' bestowed on abortion, redefining what is effectively a social problem – the lack of help for unsupported expectant mothers – as a medical problem, women cannot give authentic consent. In a further affront to the idea of consent, anencephalic babies who are allowed to be born so that their organs may be removed for transplantation, are referred to as 'donors';[107] although in future foetal 'donors' may be 'grown to order'.[108]
The modern abortion campaign ignores such issues but repels attempts to restrict abortion by citing the problem of rape; this appears to underline the idea of consent to sexual intercourse, although it does not address the fact that abortion does not 'un-rape' a woman, is not therapeutic, and does not solve the raped woman's most serious problem – the rapist. In fact it can facilitate his crimes, as evidenced by cases where rapists have escorted their victims to abortion clinics to destroy the 'evidence'.[109] The practical problems and time involved in proving that a crime took place were well known to the authorities in the 1930s, but abortion pioneers continued to advocate the 'right to abortion' for under-age girls based on rape, well aware that legalising it on that basis would provide a loophole that could be readily exploited.[110]
When abortion is seen as a solution to rape, rape can become the necessary underpinning for abortion rights, viewed less seriously by those in authority because a 'solution' is provided. 'Raising public consciousness' about rape without practical measures to prevent it succeeds in portraying women as helpless victims and men as unable to help themselves. 'Abortion for rape' is the emotional response by many who would not support it for any other reason, but the exception can be used to make the rule, and the rule can be turned into a right.[111]
'Rape for abortion' may also further the historical eugenics project. When abortion campaigners spoke of the horrors of "enforced motherhood" they meant not rape but unwanted pregnancy; but they also warned about the 'quality' of rapists' children.[112] In the 1960s Lady Summerskill, Labour peer and eugenicist, argued in favour of the 'rape' clause in Lord Silkin's abortion Bill by stating that rapists were usually criminal psychopaths with the worst possible genes, and asking whether the Bishop of Exeter (an opponent) wanted "the girl" to give birth to the product of "this man's" tainted sperm.[113]
Like eugenicists, progressives deplore capital punishment for the convicted murderer, but they do not mind it being inflicted on the innocent unborn; rape is a violation of the victim's consent, but aborting the resultant offspring is a violation of consent of the other victim – the child. And some of those born as a result of rape are now being forced to defend their own right to life.[114]
'Birth control' was supplanted by the more nebulous-sounding 'population control', but that has been supplanted in turn by the more positive-sounding but misleading expression 'unmet need', which has meant deluging poor countries with unwanted birth control products.[115] The 'consent' of women with no money and no health care must be purely nominal; moreover, attempts are underway to prove that abortion pills may be safely distributed in poor countries by studying the (carefully controlled) outcomes in wealthier countries.[116] This may avoid charges of racism, but although it is possible to undo the effects of abortion pills for women who change their minds and know how to access help (a tiny minority even in Western countries) poor women in poor countries will get no such help.[117]
Modern population control masquerades as female empowerment until exposed by its shocking results; in India, subsidiaries set targets for the numbers of sterilisations performed among the poor/endangered minorities, achieving maximum impact before news of dirty instruments and deaths leak out.[118] Advocates argue that fertility control can lead to equality; but fertility control without equality not only renders consent meaningless but worsens inequality.
'Consent': empowering the weak or facilitating their abuse?
The success of Fifty Shades can be attributed to a determined libertarian campaign in the 1970s, spearheaded by publishers and progressive literary figures, which was met by a series of failed official prosecutions under the 1959 Obscene Publications Act. Laws made by elected politicians were knocked down in favour of elitist preoccupations and profits, as the composition of the juries involved was challenged by defence lawyers until mostly all-male juries delivered the desired verdicts. In 1975 several books and magazines were cleared of the charge of obscenity, but depictions of bestiality, incest, sadomasochism and necrophilia still appeared to be illegal; however, in a further prosecution the Judge ordered the jury to issue a 'not guilty' verdict against the publishers of images of bondage, flagellation and sadomasochism. 'Liberty' campaigners hired 'expert' witnesses, one of whom, a GP called Dr Richards, appeared several times for the defence; he maintained he would '"certainly prescribe [sadomasochistic depictions] for a patient"', claiming that a picture '"of a naked man with a cat of ninetails striking a woman on the genitals"' could '"stimulate a man. It has great therapeutic value"'; a girl depicted '"tied up…with distress in her face, arms manacled"', while '"a man with a bayonet"' was '"inflicting cuts"' on her body, prompted him to claim: '"I have known patients who could benefit by masturbating on this."'[119]
Such material was defended on the grounds that the participants had given their consent, and that only those who consented to look at it would be affected.
Re-writing the History of the Right to Choose
Abortion campaigners have re-written history to portray poor women fighting for the right to abortion against the cruel, implacable forces of Church and State, but in reality the Church has been the only force consistently defending human rights when the State favoured divorce, eugenics sex education, birth control, sterilisation, abortion, euthanasia, and the creation of children deliberately deprived of a mother or a father.[120] In our post-Christian society we are left with the washed-out remnant of compassion with which to clothe our moral nakedness, and it has been employed in every eugenics campaign to win sympathy; most notably, we are said to be 'denying disabled people the right to die', 'denying parents the right to have healthy children', and 'denying same-sex couples the right to equal marriage and parenthood'.[121]
But the 'do what thou wilt' approach comes with the rider 'for thou wilt bear the consequences'. The right of single mothers to choose abortion comes with the responsibility to cope with the negative outcomes; and when single-parent benefits are eroded by popular displeasure, the 'right to choose' will remain. Sadomasochism could be seen as a sardonic twist on 'do unto others as you would have them do unto you'; the religious teaching was secularised as the 'Golden Rule', 'do as you would be done by',[122] but in an age that still recognised the existence of objective evil and could not imagine people choosing to have evil inflicted upon themselves.
Women who now embrace female victimhood as an explanation for various inequalities imagine that without modern rights, their foremothers really were helpless victims.[123] Admittedly there was very real social deprivation and a lack of gender-specific rights, but the gender power-balance in Christian society was preserved in more informal ways; Jane Austen highlights an apparent imbalance when her hero Henry Tilney, comparing "matrimony and dancing", explains that "in both, man has the advantage of choice, woman only the power of refusal",[124] but before the Pill and the Abortion Act, which supposedly widened women's choice, that power was considerable – indeed, the romance to which it gave birth was a fount of inspiration for Western literature, art, music and dance. Fertility campaigners merely succeeded in adding to men's 'advantage of choice' the 'power of refusal' to commit to a relationship, without suffering any sexual penalty; in contrast, deprived of the 'power of refusal', his pregnant partner, unable to force him to marry, is given the 'choice' of abortion or single parenthood.
Before the Abortion Act, unwed pregnancy was expected to lead to marriage, not to abortion, illegal or semi-legal, but campaigners saw 'shotgun' marriages as the 'problem' that the freedom  to abort would address; thus would the 'surplus population' be reduced.[125] Libertarian males like H. G. Wells agreed; he was correct in seeing birth control and abortion as technical fixes for women's fertility, and the fixes would be provided through positive-sounding 'family planning'.[126] To further the aims of population control, ALRA'S Madeleine Simms and the FPA's Lady Jean Medawar envisaged women aborting all unplanned pregnancies;[127] but for the 'family planners', the 'problem' remained: those whom they believed should limit their families did not always exercise that choice.
'Family planning' and abortion were supposed to give women choice, but they are negative choices; just as a woman cannot make a man marry her, she cannot 'plan' a child. Unsurprisingly, the 'family planners' and abortion campaigners were not interested in positive choices but in promoting the negative 'freedoms' of the Sexual Revolution, as part of an incestuous movement made up of largely left-wing, humanist, fertility control and libertarian groups.[128] Thanks also to their promotion of the Welfare State as the solution to poverty many poor people have been deprived of a traditional family and the opportunity of self-government that goes with it.[129]
State welfare provision and individual rights sound more empowering, especially for pregnant women, as well as less judgemental than the traditional family; but they are poor substitutes for the social networks that they have replaced. The 'right to choose' the wrong thing does not empower the weak but creates helpless victims dependent on the state. Unlike a family that might care if they lived or died, the Welfare State is better off if they do die.
Where are the freedom fighters?
Despite this, largely middle-class 'liberty' campaigners have championed sexual freedom for the masses as a soft option to political and economic freedom, relying on 'consent' to justify violent sexual practices, and preparing the way for tawdry films like Fifty Shades.[130] Far from raising generations of 'sexually confident' young people, increased sexual 'openness' has led to vulnerable children taking compromising pictures of themselves and posting them on the Web. The official response from the Crown Prosecution Service has been to treat 'revenge porn' as domestic abuse, which, while sounding like a positive move, implicitly sanctions self-abuse, for if someone displays their own images they have given consent.[131]
Paedophiles have reason to be grateful for the rise of the pornographic 'selfie',[132] and to 'sex educators' in the population control industry who counsel under-age girls on the acceptability of sadomasochistic practices involving whips, clamps and rope burns '"as long as it's consensual"'.[133] A former Medical Director of Planned Parenthood Federation Association and abortion supporter, Dr. Mary Calderone, founded the Sex Information and Education Council of the United States (SIECUS) in 1964; regarding the sexual molestation of children, she remarked: "If the child really enjoys this, it may be the only time the child ever gets a loving touch."[134] Imbued with the Kinseyan philosophy,[135] Calderone claimed that parents relegating children's sexuality (already present in the womb) to "non-existence" caused problems in their adult years.[136]
Another prominent advocate of sexual 'reform' who argued for eugenics abortion and infanticide, pleaded the case of the paedophile and also claimed that children were sexual beings,[137] but that in view of parental attitudes, the best approach was to change parental attitudes.[138] Rather than removing legal penalties against child sexual abuse, as some advocated, he argued that parents should be educated to believe their children could receive benefits, not harm, from sexual contact with "loving" adults; children could also be taught the "right to sexual fulfilment", including in his speculations "a few male beholders" who find the sexual attractions of youths "irresistible".[139] He concluded that in order to eliminate sex crime against children, such contacts must be seen as positive, not negative; a general acceptance of public nudity would help: "On pederasty, as with all the other deviations that turn people into sex-aliens, the last word is this. In a society which had succeeded in eradicating sex-hate the deviation would almost certainly, in due time, vanish with it."[140]
To achieve this social 'enlightenment', "sex-hate" would have to be eliminated, and he located its origins in God, "the first sex-hater", and Jesus, "a sex hater too". The Bible elevated concepts like "celibacy, chastity, purity, modesty, innocence, virginity" – those terms looked "meek and good set out on the page!" – but in reality were "disguises for sex-hate."[141] Like many others, he redefined coercion as consenting behaviour, to be gauged by children showing distress or discomfort with adult sexual interference; as criminal cases have found, this is a self-serving measure, but despite this he cautioned against being "too quick" to condemn child pornography, suggesting that children's distress at being filmed might be caused by their parents' attitude: "If any photograph or film employs young children there must be strict regulation. Nothing should be done against the child's will, nothing to make him or her worried or unhappy. But let's be quite sure that what makes the child worried or unhappy is that pose it is asked to take up and not the reaction of parents and other adults. Children are sexual creatures, and if left to themselves they are happy in their sexuality and certainly not harmed by it."[142]
His approach was well received by Humanist News who suggested the book "should be read by all who have care of developing children",[143] while its author praised the only Parliamentarian "courageous enough" to criticise the 1978 Protection of Children Act, specifically outlawing child pornography, Labour MP Douglas Houghton, also instrumental in legalising abortion.[144]
Clearly, the most committed proponents of child autonomy are not so committed to their right to life, and although feminists continue to be outraged by sexual violence against women, their relative silence regarding Fifty Shades is deafening – unless they are attacking those who attack it.[145] Feminist icon Simone de Beauvoir admired the Marquis de Sade, while regarding motherhood with disgust;[146] marriage has been "denounced as 'slavery,' 'legalized rape,' and worst of all, 'tied up with a sense of dependency"',[147] while feminists prefer cable ties to family ties; women actually being tied up is regarded as self-empowering as long as they have consented, and 'negotiated' a 'contract' to that effect.
Even feminist campaigners against domestic violence have tried to co-opt Fifty Shades to promote their message, but these "debates aren't new"; apparently, "the so-called feminist 'sex wars' kicked-off"" in 1982 at the Barnard Conference, "when radical feminists protested what they saw as the valorisation of sexual practices that harm women", notably pornography, prostitution and 'BDSM' (bondage, domination and sadomasochism). What we are now witnessing is "a resurgence of the argument that engaging in BDSM is simply the expression of a liberated sexual choice that can be both empowering and transgressive", and "much of the discussion today still hinges on individual choice, with the suggestion that if you choose to do something, and enjoy it, it is therefore beyond critique"; however: "Our sexual choices are never made in a social and political vacuum."[148]
'Consenting' to the 'right to die'
Before too long, the countless victims of the purveyors of the false freedom of 'sexual autonomy' may have the 'option' of 'accessing' the exit marked despair, graciously bestowed upon them by the euthanasia campaign, now re-invented as the movement for 'assisted dying'.[149] The enduring problem of eugenics population control remains, however, for the 'unfit' do not want to die. Disabled campaigners point out that while the suicides of the non-disabled are treated as tragic, and great efforts are made to prevent them,  the 'right to die' is promoted for disabled persons – Janus-faced propaganda conveying the message that while non-disabled people matter, disabled people are better off dead.[150]
As propaganda goes, Hillary Clinton maintaining that "too many women are 'denied' abortions"[151] sounds better than saying 'there should be more abortions'; similarly, the campaign for 'assisted dying' (itself a euphemism for assisted suicide) claims that the disabled are being 'denied' the 'right to die', rather than saying that not enough disabled people are dying. In 'human rights' terms, the disabled are said to be 'denied equal access' to death because they need 'help', an outcome of the 1961 law de-criminalising suicide while retaining penalties for anyone 'helping' someone else to do so. This protects the vulnerable from 'willing helpers', but it would not have passed without such a proviso, and is now regarded as unfinished business. The eugenics movement was closely involved in that decriminalisation; indeed, some involved in suicide prevention as well as eugenics argued that far from a senseless act, in some cases suicide actually 'makes sense'.[152]
In the shadow of the Holocaust, compulsory euthanasia is no longer politically correct; the progressive mind has embraced the right to choose death, but to many such a 'right' is purely hypothetical, as demonstrated by the steady procession of fit, able and comfortably circumstanced celebrity figures leading the way (although not literally) in announcing their intention to commit suicide should they become unfit and disabled;[153] unlike those who urge suicidal individuals to jump off high buildings, such figures have been lauded for their courage, reinforcing the message that suicide is an option for the vulnerable.
Suicide figures have certainly soared, helping to 'reduce the surplus population',[154] and furthering the historical aims of eugenics; for as H. G. Wells, noted population controller and euthanasia proponent remarked, his Utopia would regard the "modest suicide of incurably melancholy, or diseased or helpless persons" as "a high and courageous act of duty rather than a crime".[155]
Sir Winston Churchill, who suffered from what he called his 'black dog' of depression, confessed to a fear of literally being too near the edge – of railway tracks, or a ship's rail – because of the temptation to 'end it all'.[156] Had he succumbed, we might now be living – or dying – under the heel of his adversary, who committed suicide rather than face the defeat of his perverted ambition. Some of Hitler's Jewish victims also committed suicide, but out of despair; clearly, Hitler would have approved of their 'choice'. Campaigners for 'assisted dying' emphasise that the consent of the patient would be crucial, and hedge their proposed law with safeguards; so did the Nazis in their plans to relieve 'incurables'.[157]
In 2015 many of those 'incurables' – including tuberculosis and cancer sufferers – are curable, although there is no doubt that some patients, also struggling with social or psychological reasons, would prefer a lethal injection to further treatment; but instead of focussing on the death-blow that assisted suicide would deal to the future of medicine, we will hear about the stigma suffered by the differently-abled being denied access to death as a human right. Where once we heard about aged 'bed-blockers' in our hospitals, there is talk of elderly patients being 'denied the right' to die at home; and just in case some make it to hospital, they are being asked to consent 'in advance' to 'do not resuscitate' orders.[158]
Pilgrim's Progress or true progress?
Shakespeare's Hamlet contemplates 'rational' suicide – whether to kill himself instead of his father's killer, Claudius – but rejects the temptation, knowing that "the sleep of death" would not be so peaceful as some suppose, but would be haunted by "dreams"; and like Hamlet, the "dread of something after death – the undiscovered country, from whose bourn no traveller returns",[159] deters the heroes of Bunyan's The Pilgrim's Progress. Giant Despair is not, as his name would suggest, given to making gloomy pronouncements or to despairing of the evil of Man; instead, he throws Bunyan's pilgrims Hopeful, along with Christian – ironically, the hero's name in Fifty Shades – into prison.
Far from inflicting torture, however, the fellow pilgrims are subjected to it. Giant Despair's entertaining little plan is to get them to commit suicide 'voluntarily' rather than murdering them outright. Thrown into a stinking dungeon in Doubting Castle, they are starved, beaten, and tormented by being shown the bones of the Giant's other victims – all to induce the despair that will make them take their own lives. They are even given the 'right to choose' their instrument – knife, rope, poison.
Christian, afflicted by despair, is sorely tempted even while knowing that suicide kills both body and soul, but Hopeful dissuades him; eventually they escape. Giant Despair is no liberator but a sadist, since the only 'freedom' he offers the two pilgrims is the liberation of death.[160] Giving people the 'right to die' as 'simply one choice among many' sounds a positive step for individual autonomy, but it may be the only choice when cash-strapped Western governments discover how much cheaper it is than treatment and care.[161]
Conclusion: conditioned to consent?
G. K. Chesterton argued that free will is the "primary power of choice" and the "essential form of freedom" for "a free man", as well as the basis of democracy;[162] it should not involve 'freeing' people to choose evil[163] by relaxing safeguards for the vulnerable and allowing people to follow their natural appetites, damaging their own and other people's welfare under the rubric of 'choice'.
Against this argument, C. S. Lewis knew that "if man chooses to treat himself as raw material, raw material he will be: not raw material to be manipulated, as he fondly imagined, by himself, but by mere appetite, that is, mere Nature, in the person of his de-humanized Conditioners"; if we are merely ruled by instinct, so must be our 'conditioners' – the public servants who will become our masters.[164]
'Coercion' has been covertly converted to consent by left-wing campaigners and spin doctors borrowing the marketing methods of advertisers – the 'mind-benders' of capitalism – to the advantage of Marxists but also unethical capitalists, utilitarians, economists, libertarians, paedophiles, and of course population controllers and eugenicists.[165] And not forgetting gesture politicians. In our post-democratic stage of Western civilisation, we are encouraged to choose politicians who represent not our views but our sex or skin colour; but since virtually all hold 'progressive' views on social issues, the agenda is the same. Increasingly, we will not get the right to choose positive things like homes, jobs, incomes and health care, but the negative right to harm ourselves by choosing to be exploited, choosing childlessness, choosing loneliness, or choosing suicide.
More than a century ago, Robert Hugh Benson's Lord of the World described a dystopian future in which suicide is offered as the ultimate panacea for all the 'freedoms' that citizens must endure. The hero's wife finally chooses to die, not because she fears death – "It is life I am frightened of – not death" – and, unlike Hamlet, Christian and Hopeful, she has no belief in an afterlife. 'Future England' had its 'safeguards', however – an eight-day period of contemplation before committing suicide.[166]
Whether traditional, exclusive, life-long marriage will survive the age of false choices is a moot point, especially if, as in Fifty Shades the heroine finally gets her 'hero' – a violent, controlling, sexually perverted villain – after 'consenting' to all kinds of humiliations at his bidding.[167] Nonetheless, somehow the idea persists that sexual 'liberation' is also politically liberating, but as one American commentator has noted, the "sexual revolution was not a grassroots uprising; it was rather a decision on the part of the ruling class in France, Russia, Germany and the United States at various points during the last 200 years to tolerate sexual behavior outside of marriage as a form of insurrection and then as a form of political control."[168]
Technically, our democratic governments will not force us to humiliate ourselves, harm ourselves, or kill ourselves; they will simply remove the fence from the edge of the cliff and talk over the screams while the weakest plunge to their deaths. Nominally we will have given our consent to being harmed by casting our vote at the ballot box; but we will be forced to choose from among identikit politicians who believe that there is no objective right or wrong; that no issue is black and white. Increasingly, 'democracy' will mean choosing between 'fifty shades of grey'.
But there are signs of rebellion against the con trick of consent; the victims are starting to fight back against bearing the burden of guilt for 'choosing' to harm themselves. There is a growing realisation that despite talk of liberation and revolution, the 'new boss' is just the 'same as the old boss'.[169] Secular grassroots campaigns are springing up among addicts refusing to look at pornography;[170] women persuaded to exercise the 'right to choose' abortion are 'silent no more'.[171] The casualties of the Big Lie – the cannon fodder of the Sexual Revolution – are rebelling against the claim that 'victory against virtue' is liberating; that there are no 'black and white' issues. They are rejecting the right to self-harm. Sadly, it is too late for those successfully persuaded that suicide is a 'grey area'.
---